Reizen in Europa – 3.000 km in één weekend
Voor degenen onder jullie die het laden van paarden en het rijden van enkele tientallen kilometers een nachtmerrie vinden, lijkt dit verhaal misschien bijna ongelooflijk, maar het tegenovergestelde is waar. Na veel advies hebben we onze paardentrailer uiteindelijk vervangen voor een horsetruck. Onze eerste reis met de nieuwe horsetruck was probleemloos en we hebben er allemaal van genoten.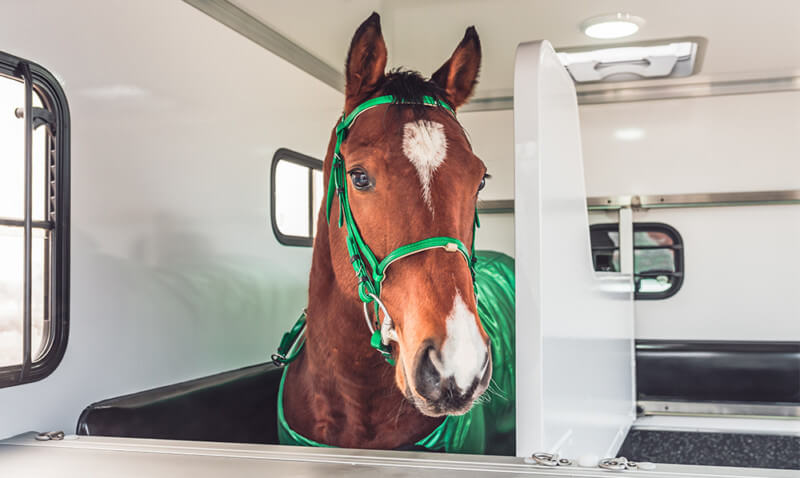 We zijn vertrokken! Ons vieren samen met onze hengst Amadeus en jong merrie veulen Pretory.
Het doel was duidelijk en voor sommigen niet voor te stellen maar inmiddels routine voor ons. Wij reizen met onze paarden van A naar B in een korte periode. Vandaag is dat van Tsjechie naar een wedstrijd in West Frankrijk en weer terug.
We hebben alle bagage die we nodig hebben voor onze reis in onze nieuwe vijf-zits Paragan Excelsion 5. Het is een lange reis en wij zullen tijdens het rijden wisselen van chauffeur om op tijd aan te komen op onze bestemmingsplek. Initieel waren wij een beetje bezorgd omdat het de eerste lange afstandsrit was voor onze jonge volbloed Pretory en onze ijverige hengst Amadeus. Uiteindelijk is alles meer dan goed gegaan. We hebben het hoofdseperatie schot dicht gedraaid waardoor de paarden niet met elkaar in contact kwamen. Al snel kalmeerden de paarden en konden wij veilig op weg naar plaats van bestemming.
Hay, water and the right temperature … necessary comforts for long journeys.
Doordat we niet beperkt werden door een paardentrailer en de maximale snelheid van slechts 90 km/u kwamen wij snel aan bij onze eerste stop in Midden Duitsland. Tijdens de reis konden we de paarden via het camera systeem bekijken op de display in de cabine. Dankzij het venster in de achterwand van de cabine konden wij de paarden zien en tijdens het rijden kalmeren. Op de temperatuur indicator konden wij zien dat de temperatuur in het paardengedeelte opliep, dus besloten wij de ventilatie aan te passen om de paarden de hele reis van een stabiele en aangename temperatuur te voorzien.
Uiteindelijk stopten we bij een tankstation. We hebben de paarden water gegeven en hooi aan de netten toegevoegd om ze tijdens de reis een beetje af te leiden. Water- en voer opname is voor paarden erg belangrijk tijdens lange reizen, vanwege een goede peristaltiek van de darmen en het voorkomen van wat voor paarden zeer gevaarlijk kan zijn, koliek.
Het was overduidelijk dat Pretory en Amadeus nu al uitkeken naar de start van de race van de volgende dag, waar ze de rust die ze in de horsetruck hadden goed zouden gebruiken en hun kwaliteiten zouden tonen op de renbaan. Het is goed dat onze paarden het transport niet als een noodzakelijk kwaad zien maar als een prettig rust moment. Dit alles zou niet mogelijk zijn met onze paardentrailer.
Na het verzorgen van de paarden zijn we zelf wat gaan eten in een restaurant en al snel weer op weg naar Frankrijk.
Bij de finish
We kwamen 's avonds laat aan op onze bestemming en hebben Amadeus en Pretory naar de accommodatie van de renbaan gebracht. Wij waren uitgeput van de lange reis en zijn gelijk gaan slapen. Om geld te besparen deed onze horsetruck dienst als hotel. In de cabine hebben we de achterbank neergeklapt tot twee slaapbedden. Nog twee mensen sliepen in de spoiler boven de cabine. Op deze manier konder wij eenvoudig met 4 personen overnachten in onze horsetruck.
Succesvol debuut van Amadeus en Pretory!
We stonden vroeg in de ochtend op. We haalden de hoofdstellen uit de zadelkamer, zadelden de paarden en gingen ons uitstrekken om ons voor te bereiden op de races. Pretory liep als eerste. We waren tevreden met haar prestatie, want in haar eerste debuutrace was ze vastberaden en liet ze zien dat ze het in zich heeft. En Amadeus? Onze race veteraan eindigde zijn race op een mooie derde plaats en voor zijn eindsprint kreeg hij een welverdiend brons.
Na deze ervaring weet ik dat onze paarden niet gestrest of stijf zijn van het rijden in de horsetruck, zoals vaak het geval was met de trailer. Daarom kan ik altijd op hen vertrouwen en het maximale verwachten.
Na de races hebben we onze kampioenen weer in de horsetruck geladen en zijn we trots terug naar huis gegaan. Misschien vieren we de volgende keer het goud!
Heeft u een vraag of bent u

geinteresseerd?

Neem vrijblijvend contact met ons op