TRAILER VS. 3.5 t HORSEBOX
If you own a horse trailer or a carrier, many of you will certainly prefer that which is in your yard right now. If you own a horsebox, you already know that you have made the right decision. If you own a trailer or are considering purchasing one, we will give you a few insights, gained from the long experience of equestrians, to help you understand why a horsebox is better than a trailer.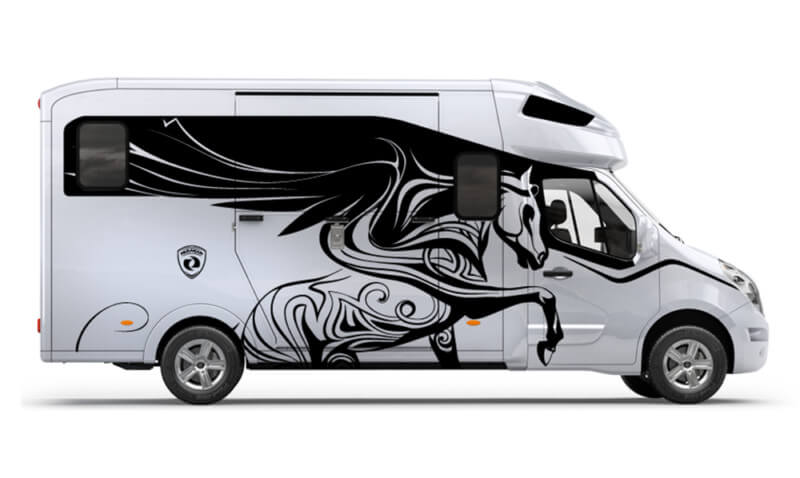 Driving and handling
Driving a horsebox is not as stressful as driving with a trailer, because – you are not towing one, right? Especially true when traveling long distances. When other drivers see your horsebox on the road, they are much more aware of you, because you are more visible – just like when they see an eighteen-wheeler. With the trailer, you must constantly monitor other drivers' behavior and be prepared for unexpected and long braking, which increases the risk of danger; while when driving the horsebox you can be more relaxed. Again, you have no trailer behind you, not to mention worse maneuverability or difficulty backing-up. The horsebox also has better suspension characteristics, i.e. fewer hard impacts on uneven roads, which would unnecessarily stress the horse; and only a regular class B driver's license is required to drive it. Another drawback of the trailer is the need to manually drag it, hook it up to the hitch and plug in the electrical connector before each transport, which can be for most women or even men a difficult and bothersome task when done daily. None of this is necessary with the horsebox. If you often travel through high hills, the trailer weight is likely to quickly wear out or damage your vehicle's suspension and other components. Unfortunately, we also have to mention the risk of a possible accident where the trailer can unhook from the hitch and continue moving uncontrollably down the road, which can have fatal consequences. To put it simply, driving in a horsebox is quieter, more comfortable, safer and more economical for both the driver and his horse. But we'll discuss this in detail further.
Transport of horses and other equipment
The horsebox itself provides a better environment for transporting horses than a trailer. It is not only about more room for horses, but also in what direction the horses are facing during transport. Think about it; has it ever occurred to you when travelling on a train, that you are safer when facing the opposite way to the direction of travel? Yes, you are right, at impact, you will not fly across the entire train car, as would be the case of the trailer; and the horses will hot hit their heads as they would in a trailer. It is also known that many horses simply cannot stand being transported in a trailer and it is very difficult to get them inside, if at all. The horses enter using the side ramp, this entrance is more spacious and therefore more comfortable to get through. Another advantage of the horsebox lies in its ample storage space – pack your food, water, clothing and your equestrian needs for long journeys or longer lasting races. Thanks to its compactness, the container will also serve as a regular delivery van, the horse accommodations are easy to disassemble, providing a large area for transporting very bulky items.
Safety
Much about safety has been said above, in terms of the difference in driving, driving properties or transporting horses between a trailer and a horsebox, but there is more. For example, the camera system is an ideal help when backing-up, a task already so much simpler with a horsebox. The driver can monitor the temperature, and, using the camera system, events in the horse compartment in real time directly from the cab. You can constantly keep an eye on your horses while you are on the road and thus enjoy a peaceful and carefree journey.
Price and operating costs
While the cost of acquiring a horsebox is higher than the price of a trailer, the cost of normal operation is much lower, and if you do not have a powerful enough vehicle to tow a trailer, you must add the cost of the vehicle to that of a trailer, and that is something to contemplate. Either way, many trailer owners are faced with high fuel costs, as they regularly tow a heavy object, for which their vehicle has not been designed. They also have to take into account the high insurance costs; therefore, even when initially using a trailer, they later switch to a more economical horsebox. For example, the Paragan horseboxes are the lightest horseboxes on the European market; they also have a patented aerodynamic design of the luton and the rear spoiler, so the air flows around the vehicle much easier, and even when loaded to capacity, it is a very economical alternative to trailers. Longer Paragan containers also offer comfortable sleeping areas, saving you time and money otherwise spent on finding an affordable hotel on your travels. On the other hand, shorter Paragan containers with a length below 6 meters will fit into a more economical class and thus save you on ferry costs.
If this article has not yet convinced you and you still have remaining doubts, you can try our RENT ME horsebox for one or more days and make your own opinion, or eventually consult with us.
Have a question or

interested in?

Contact us